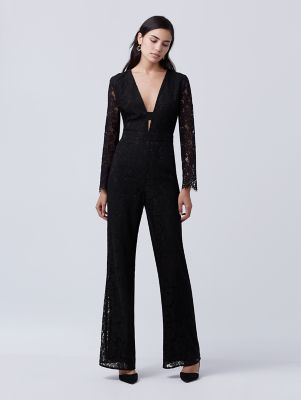 Hey dolls, anyone ever tried a jumpsuit for the first date? Or ok, not necessarily for the first, but still somewhere in the beginning? Without any notice or request.
I am proud of my body (like all of you) and men has told me that tight dresses do show the very best part of me. So I am eager to utilize this while I can.
There are obviously very different jumpsuits: Ralph Lauren and Diane von Furstenberg, Fendi to Max Mara… From extremely teasing and obviously not any good for any public meeting, like the privately breathtaking lace see-through one from GoJane…
…to something a lot more convenient for meeting the man, who is going to pay your expences and be proud to have you next to him. There are very classy items which I just cannot stop thinking about like the one from Alexandre Vauthier.
I do find it sexy, but somehow I find it a little extraordinary type of dress. Not neccesarily just like the one above, but generally speaking don't you think it is a little too much? Shall I keep it for a more private session or completely forget about it?